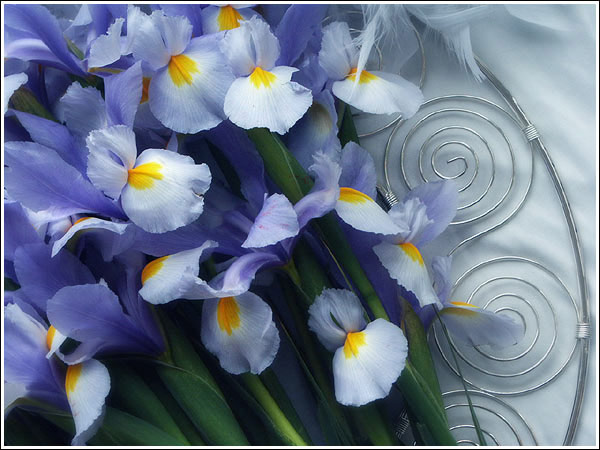 History of the Iris, our Floral Emblem
The Schizophrenia Society of Nova Scotia and the Schizophrenia Society of Canada adopted the
Iris
as an emblem for its crusade against mental illness in 1994. The Iris' three petals represent
courage
,
wisdom
and
hope
.
The
National Alliance for the Mentally Ill
(NAMI) and the National Alliance for Research on Schizophrenia and Depression (NARSAD) chose the flower following the historic sale of
Les Irises
, a painting by
Vincent van Gogh
, for more than $50 million in 1987. The English mental health organization, Schizophrenia - A National Emergency (
SANE
) also adopted the flower for its emblem in 1993.
Les Irises was painted in the garden of the asylum at St. Remy, in the south of France, in May 1889 when van Gogh was having his most desperate battle with a mental illness, now believed to have been schizophrenia. From the asylum he wrote numerous letters to his brother, Theo. In one of these letters, Vincent wrote a haunting account of his illness:
"As for me, you must know I shouldn't precisely have chosen madness if there had been any choice? What consoles me is that I am beginning to consider madness as an illness like any other, and that I accept as such.
"
During this period of his life, van Gogh reportedly painted at a frantic pace. He was discharged from the asylum, but the illness recurred and the following year he died by suicide. His paintings from this period are regarded by experts as his greatest works.
Throughout folklore, the iris has been regarded as the symbol of faith, hope and courage, one for each of its three sets of petals, and was given as encouragement to anyone who was suffering. With time, it became symbolized with warriors and soldier kings.
Legends tell of the victorious soldiers of
King Clovis of the Franks
crowning themselves with irises following the
battle of Tolbiac
in 496 AD. The flower became the symbol of Gaul in the first century and it was later proudly displayed by
King Louis VII
of France as his emblem during the second crusade. The flowers soon became known as the "fleurs de Louis", which eventually was altered to "
fleurs de lys
", now associated with the flag of Quebec. Artisans by this time had stylized the emblem so much that people forgot the original flower and assumed it was based on the lily.
The flower is also found in ancient mythology, where Iris was known as the "goddess of the rainbow", the swift-footed iridescent messenger of Zeus and his wife Hera. One of her duties was to lead the souls of dead women to the Elysian Fields. To encourage her, the Greeks planted irises on women's graves, a practice still in place.
Adapted from the Schizophrenia Society of Ontario website.